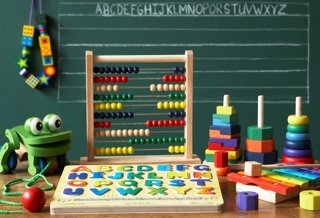 One Kings Lane Has a HOT $15 Credit Offer!
It's a great time to get signed-up for One Kings Lane!  When you sign up for the first time, you'll get $15 credited to your account to use towards any One Kings Lane  order of $30 or more ~ including almost 50 Melissa & Doug Toys.  It looks like you have 30 days to use the credit before it expires, but other than that, there are no other strings attached (love that!). Do note that the $15 credit is only offered for new account sign-ups and that it is FREE to join.   Go here to sign up for free and get the $15 credit!
How to get FREE Melissa & Doug Toys:
Find and select the Melissa & Doug Toy "boutique" by scrolling through the discount "boutiques" listed (look for the image at the top of this post).
Make your purchase before Thursday. There are limited quantities of these items available, so I would recommend not waiting too long to make your purchase.  Many of the items will sell out fast.
Even without the credit, you can still save a bundle on these toys ~ up to 35% OFF from Melissa and Doug!  We saw some of these same toys in the Kohl's toy section last week for quite a bit more than these discount prices listed at One Kings Lane. 
Enjoy and Share!  :)
.

Linking to Amazon or One Kings Lane through our site helps support
Frugal in Fort Worth (bunches of thanks!)